A contractual chain is formed where multiple contractors and subcontractors are engaged to work on the same site. It is common to form a contractual chain in the building and construction industry. In a contractual chain, each contractor or self-employed person can be both worker who is owned WHS duties and a PCBU who may owe WHS duties to themselves and other workers. It is important to understand if you are part of a contractual chain as this will help you identify who you may owe WHS duties to and who may owe you WHS duties.
WHS duties may be owed by multiple PCBUs in a contractual chain. The higher up you are in the chain, the more workers you may owe WHS duties to. If you are at the top of the contractual chain, you should build WHS into your contractual management and take lead in coordinating WHS practices down the chain. You don't need to be in a direct contractual relationship with the workers lower down the chain for you to owe WHS duties to them.
SafeWork Australia – WHS Duties in Contractual Chain provides the charts below demonstrating how contractual is formed, and who may own duties in a contractual chain.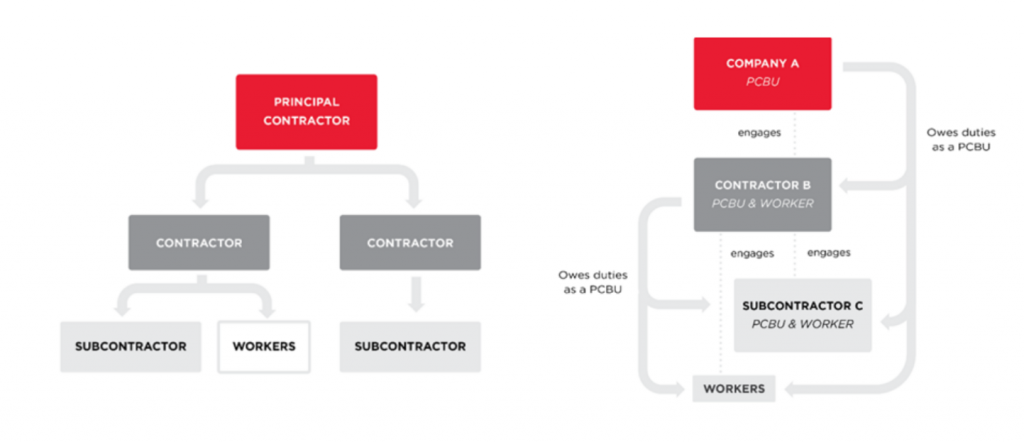 WHS duties of an individual worker in a contractual chain
Each worker/subcontractor must also take reasonable care for their own safety and take reasonable care that they do not put the health and safety of others at risk. This may include, but not limited to:
Comply with the head contractor's WHS policies and procedures, and
Maintain your work area as risk free as possible.
Please note that WHS duties are not transferable. Such duties cannot be contracted out to another subcontractor in the contractual chain.
Further information about WHS duties in a contractual chain, and supporting information, can be found here.